Back to series
Click HERE to watch the service live on Sunday at 10:30 am via the church's YouTube Channel
Click HERE to download a viewable/printable copy of the bulletin that is also provided.
If you are new to CBC, please click HERE to fill out a Connection Card.
Click HERE for Jr. Church activities, lesson, song, and bible verse if your walking through the service at home! (the videos cannot be downloaded but there is a coloring page you can print off)
WELCOME
We're so glad you are
joining us this morning!
We have created this plan for
starting to gather again and
are currently on Level 3.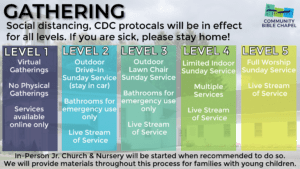 FINANCES
Weekly Budget Week 20 $90,925
Giving through Week 20 $112,046
ABOVE budget by $21,121
Thank you for your faithfulness in giving.
Online giving available at CommunityBibleChapel.com
Mail in your giving to CBC or drop-off on Sunday
VOLUNTEERS
We're thankful for those serving to make our outdoor services possible.
If you would be interested in serving, here are a few of the areas we need volunteers!
Technology/Streaming/Music : Contact Pastor Jack
Parking attendants/Greeters : Contact Paul Leentjes
Junior Church Teachers/Helpers/Check-in : Contact Sarah Robinson
HOW IT WORKS
TODAY'S SERVICE
WELCOME
We Believe
Only a Holy God
JR. CHURCH DISMISSED MUST FILL OUT REGISTRATION
Amazing Grace
TODAY'S MESSAGE:
Following a Generous God : Living Wisdom in the Home-Part 2
Ephesians 5:25-33
Love your wife v. 25
Giving v. 25
Holy v. 26 -27
Caring v. 28 – 29
Faithful v. 31-33
You're Love, O Lord
Notes available on YouVersion app.
Select More. Select Events, then search for Community Bible Chapel.
Select today's service to access notes
BULLETINS AND JUNIOR CHURCH ACTIVITY AVAILABLE FOR
DOWNLOAD AT COMMUNITYBIBLECHAPEL.COM
We Believe
Verse 1
The heavens declaring Your glory
The skies sing the work of Your hands
And day after day they call out and say
Believe
Verse 2
The oceans are telling Your story
Over and over again
Wave after wave they call out and say
Believe
Pre-Chorus
Oh what a revelation
You've lifted our heads and opened our
eyes
And this is our declaration
Chorus
We believe we believe You are God
We believe we believe You are good
You have conquered the grave
Taken our sin away
We believe we believe ev'ry word
You have breathed we believe we are Yours
And with each breath You give us
We will proclaim
Interlude
We believe we believe
We believe we believe
Verse 3
And now as we stand before You
We wanna give You more than a song
We want lives that prove that we really do
Believe
Pre-Chorus
You've given us the revelation
Now take Your church and turn us into
A living declaration
Bridge
And if our faith is weak
God help our unbelief
And You are faithful
God You are faithful
And if our faith is weak
God help our unbelief
You have been faithful
And You will be faithful
Bridge
And You say come
And here we are lifting up
Our hands and our hearts
To worship You to tell You
We believe
CCLI Song # 7052890
Steven Curtis Chapman
© 2015 Be Essential Songs (Admin. by Essential Music
Publishing LLC)
Who You Say Music (Admin. by Essential Music Publishing LLC)
For use solely with the SongSelect® Terms of Use. All
rights reserved. www.ccli.com
CCLI License # 296088
Only a Holy God
Verse 1
Who else commands all the hosts of heaven
Who else could make every king bow down
Who else can whisper and darkness trembles
Only a Holy God
Verse 2
What other beauty demands such praises
What other splendour outshines the sun
What other majesty rules with justice
Only a Holy God
Chorus
Come and behold Him
The One and the Only
Cry out sing holy
Forever a Holy God
Come and worship the Holy God
Verse 3
What other glory consumes like re
What other power can raise the dead
What other name remains undefeated
Only a Holy God
Verse 4
Who else could rescue me from my failing
Who else would oer His only Son
Who else invites me to call Him Father
Only a Holy God
Only my Holy God
CCLI Song # 7073332
Dustin Smith | Jonny Robinson | Michael Farren | Rich Thompson
© 2016 CityAlight Music (Admin. by Capitol CMG Publishing (Integrity Music, David C Cook))
Farren Love And War Publishing (Admin. by Capitol CMG Publishing (Integrity Music, David C Cook))
Integrity's Alleluia! Music (Admin. by Capitol CMG Publishing (Integrity Music, David C Cook))
Integrity's Praise! Music (Admin. by Capitol CMG Publishing (Integrity Music, David C Cook))
For use solely with the SongSelect® Terms of Use. All rights reserved. www.ccli.com
CCLI License # 296088
Amazing Grace
Verse 1
Amazing grace how sweet the sound
That saved a wretch like me
I once was lost but now I'm found
Was blind but now I see
Verse 2
'Twas grace that taught my heart to fear
And grace my fears relieved
How precious did that grace appear
The hour I first believed
Chorus
My chains are gone I've been set free
My God my Savior has ransomed me
And like a ood His mercy rains
Unending love amazing grace
Verse 3
The Lord has promised good to me
His word my hope secures
He will my shield and portion be
As long as life endures
Verse 4
The earth shall soon dissolve like snow
The sun forbear to shine
But God who called me here below
Will be forever mine
Will be forever mine
You are forever mine
CCLI Song # 4768151
Chris Tomlin | John Newton | Louie Giglio
© 2006 sixsteps Music (Admin. by Capitol CMG Publishing)
Vamos Publishing (Admin. by Capitol CMG Publishing)
worshiptogether.com songs (Admin. by Capitol CMG Publishing)
For use solely with the SongSelect® Terms of Use. All rights reserved. www.ccli.com
CCLI License # 296088
Your Love, O Lord
Verse
Your love O Lord
Reaches to the heavens
Your faithfulness
Stretches to the sky
Your righteousness
Is like the mighty mountains
Your justice flows
Like the ocean's tide
Chorus
I will lift my voice
To worship You my King
I will find my strength
In the shadow of Your wings
Ending
Your love O Lord
Reaches to the heavens
Your faithfulness
Stretches to the sky
CCLI Song # 1894255
Brad Avery | David Carr | Mac Powell | Mark D. Lee | Tai Anderson
© 1999 New Spring (Admin. by Brentwood-Benson Music Publishing, Inc.)
Kobalt Music Copyrights SARL (Admin. by Kobalt Music Publishing America, Inc.)
For use solely with the SongSelect® Terms of Use. All rights reserved. www.ccli.com
CCLI License # 296088