Back to series
Click HERE to watch the service live on Sunday at 10:30 am via the church's YouTube Channel
Click HERE to download a viewable/printable copy of the bulletin that is also provided.
If you are new to CBC, please click HERE to fill out a Connection Card.
Click HERE for Jr. Church activities, lesson, song, and bible verse if your walking through the service at home! (the videos cannot be downloaded but there is a coloring page you can print off)
WELCOME
We're so glad you are
joining us this morning!
We have created this plan for
starting to gather again and
are currently on Level 3.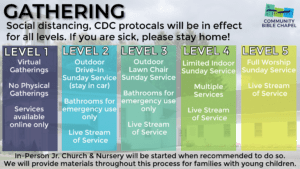 FINANCES
Weekly Budget Week 23 $105,322
Giving through Week 23 $125,654
ABOVE budget by $20,332
Thank you for your faithfulness in giving.
Online giving available
at CommunityBibleChapel.com
Mail in your giving to CBC or drop-o on Sunday
VOLUNTEERS
We're thankful for those serving to make our outdoor services possible.
If you would be interested in serving, here are a few of the areas we need volunteers!
Technology/Streaming/Music : Contact Pastor Jack
Parking attendants/Greeters : Contact Paul Leentjes
Junior Church Teachers/Helpers/Check-in : Contact Sarah Robinson
HOW IT WORKS
TODAY'S SERVICE
You're Worthy of My Praise
All My Hope
JR. CHURCH DISMISSED MUST FILL OUT REGISTRATION
A Mighty Fortress is Our God
TODAY'S MESSAGE :
"SOLI DEO GLORIA"-Glory to God Alone
Romans 11:36
For from him and through him and to him are all things. To him be glory forever. Amen.
What is glory?
1. Doxa
Where does glory come from?
1. From God
2. Through God
3. To God
Soli Deo Gloria
1. 5 Solas of the Reformation
2. "To the glory of God alone"
Since God gets all the glory, what do we have do with it?
1. "Man's chief end is to glorify God, and to enjoy him forever." -WCF
How do we practically give glory to God?
1. By faith in Christ
2. By reflecting His nature and character in all circumstances!
Living Hope
Notes available on YouVersion app.
Select More. Select Events, then search for Community Bible Chapel.
Select today's service to access notes
BULLETINS AND JUNIOR CHURCH ACTIVITY AVAILABLE FOR
DOWNLOAD AT COMMUNITYBIBLECHAPEL.COM
You're Worthy of My Praise
Verse 1
I will worship (I will worship)
With all of my heart (with all of my heart)
I will praise You (I will praise You)
With all of my strength (all my strength)
I will seek You (I will seek You)
All of my days (all of my days)
I will follow (I will follow)
All of Your ways (all Your ways)
Chorus
I will give You all my worship
I will give You all my praise
You alone I long to worship
You alone are worthy of my praise
Verse 2
I will bow down (I will bow down)
And hail You as King (and hail You as King)
I will serve You (I will serve You)
Give You everything (everything)
I will lift up (I will lift up)
My eyes to Your throne (my eyes to Your throne)
I will trust You (I will trust You)
Trust You alone (You alone)
CCLI Song # 487976 David Ruis
© 1991 Shade Tree Music (Admin. by Brentwood-Benson Music Publishing, Inc.)
Universal Music – Brentwood Benson Publishing (Admin. by Brentwood-Benson Music Publishing, Inc.)
For use solely with the SongSelect® Terms of Use. All rights reserved. www.ccli.com
CCLI License # 296088
All My Hope
Verse 1
I've been held by the Savior
I've felt re from above
I've been down to the river
I ain't the same a prodigal returned
Chorus
All my hope is in Jesus
Thank God that yesterday's gone
(Yes) All my sins are forgiven
(Oh I've) I've been washed by the blood
(Come on and sing)
Verse 2
I'm no stranger to prison
I've worn shackles and chains
But I've been freed and forgiven
And I'm not going back I'll never be the same
That's why I sing
Bridge
There's a kind of thing that just breaks a man
Break him down to his knees
God I've been broken more than a time or two
Yes Lord then He picked me up and showed me
What it means to be a man
Come on and sing
CCLI Song # 7068805
David Crowder | Ed Cash
© 2016 Alletrop Music (Admin. by Capitol CMG Publishing)
Inot Music (Admin. by Capitol CMG Publishing)
sixsteps Music (Admin. by Capitol CMG Publishing)
worshiptogether.com songs (Admin. by Capitol CMG Publishing)
For use solely with the SongSelect® Terms of Use. All rights reserved. www.ccli.com
CCLI License # 296088
A Mighty Fortress is Our God
Verse 1
A mighty fortress is our God
A bulwark never failing
Our helper He amid the food
Of mortal ills prevailing
For still our ancient foe
Doth seek to work us woe
His craft and power are great
And armed with cruel hate
On earth is not his equal
Verse 2
Did we in our own strength confide
Our striving would be losing
Were not the right man on our side
The man of God's own choosing
Dost ask who that may be
Christ Jesus it is He
Lord Sabaoth His name
From age to age the same
And He must win the battle
Verse 3
And though this world
With devils filled
Should threaten to undo us
We will not fear
For God hath willed
His truth to triumph through us
The prince of darkness grim
We tremble not for him
His rage we can endure
For lo his doom is sure
One little word shall fell him
Verse 4
That word above all earthly pow'rs
No thanks to them abideth
The Spirit and the gifts are ours
Through Him who with us sideth
Let goods and kindred go
This mortal life also
The body they may kill
God's truth abideth still
His kingdom is forever
CCLI Song # 2184098
Frederick Henry Hedge | Martin Luther | Tommy Walker
© Words: Public Domain
Music: 1997 Universal Music – Brentwood Benson Songs
(Admin. by Brentwood-Benson Music Publishing, Inc.)
For use solely with the SongSelect® Terms of Use. All rights
reserved. www.ccli.com
CCLI License # 296088
Living Hope
Verse 1
How great the chasm that lay between us
How high the mountain I could not climb
In desperation I turned to heaven
And spoke Your name into the night
Then through the darkness Your loving-kindness
Tore through the shadows of my soul
The work is finished the end is written
Jesus Christ my living hope
Verse 2
Who could imagine so great a mercy
What heart could fathom such boundless grace
The God of ages stepped down from glory
To wear my sin and bear my shame
The cross has spoken I am forgiven
The King of kings calls me His own
Beautiful Savior I'm Yours forever
Jesus Christ my living hope
Chorus
Hallelujah praise the One who set me free
Hallelujah death has lost its grip on me
You have broken every chain
There's salvation in Your name
Jesus Christ my living hope
Verse 3
Then came the morning that sealed the promise
Your buried body began to breathe
Out of the silence the Roaring Lion
Declared the grave has no claim on me
(REPEAT)
Jesus Yours is the victory
Ending
Jesus Christ my living hope
Oh God You are my living hope
CCLI Song # 7106807
Brian Johnson | Phil Wickham
© 2017 Phil Wickham Music (Fair Trade Music Publishing [c/o Essential Music Publishing LLC])
Simply Global Songs (Fair Trade Music Publishing [c/o Essential Music Publishing LLC])
Sing My Songs (Fair Trade Music Publishing [c/o Essential Music Publishing LLC])
Bethel Music Publishing
For use solely with the SongSelect® Terms of Use. All rights reserved. www.ccli.com
CCLI License # 296088